Have you ever wondered how a human-centric ambulance billing process works? Let's find out! In this blog series, EMERGICON will walk you through the daily personalized service offered by our 100% Texan team members and show how our Texan Touch® approach is unique. After diving into the departments conducting the claims process – Pre-Billing, Billing, Accounts Receivable, Cash Applications, and Patient Accounts -, it's time to discover the departments who work in support of the claims process and our clients. This week, the Reimbursement & Credentialing team takes center stage.
The Reimbursement & Credentialing Department is responsible for credentialing new clients with the multitude of payers, re-credentialing existing clients, and keeping all clients compliant with reimbursement requirements. We spoke to Reimbursement & Credentialing Assistant Manager Alecia Kaufman and Reimbursement & Credentialing Specialists Lori Munoz and Cristina Hernandez to better understand the department's responsibilities.
Daily Task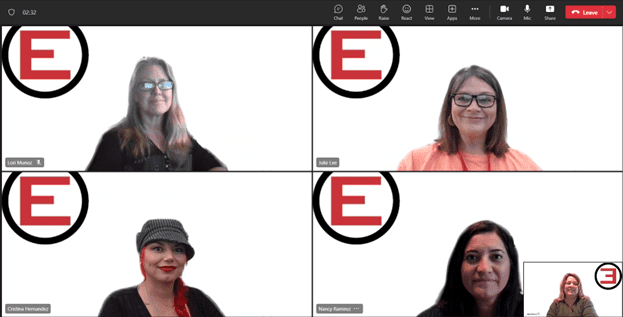 According to Assistant Manager Alecia Kaufman, the Reimbursement & Credentialing team works in direct contact with EMERGICON's clients. "Our department supports the onboarding process of new clients. Alongside the Client Services team, we guide new clients on the procedures of EMS reimbursement. We set up bank accounts, credential the clients with the governmental payers (Medicare and Medicaid) and ensure that those stay up to date. On the Reimbursement side, we make sure that all the right connections are set up to ensure that payments from the top payors are quick, easy, and direct," explains Kaufman.
Although the department's name summarizes the team's assignments, it does not account for all the continuous tasks of the Reimbursement & Credentialing processes. "Each team member is responsible for specific clients, and we touch every client account almost daily. We help with their requests, update information like addresses, complete portal set-ups, and conduct the EFT and ERA enrollments," says Reimbursement & Credentialing Specialist Lori Munoz.
The Reimbursement & Credentialing Specialist, Cristina Hernandez, adds to her peer's statements. "We do our best to make things more efficient. For example, we negotiate on behalf of our clients to reduce the fees they pay, so the EMS agencies can receive a bigger reimbursement," informs Hernandez.
The Texan Touch®
The Reimbursement & Credentialing team embodies the personalized approach that distinguishes EMERGICON as more than a vendor, but a true partner, by displaying their efforts to go above and beyond: the team's Texan Touch®. "We have a close relationship with our clients. When they ask a question or have a problem, we invest time in finding the answer or solution. We take care of each account and try to ensure the clients are satisfied," says Munoz proudly. "We have an entire team of dedicated, kind, and courteous professionals focused on completing their tasks accurately and serving the clients the best way possible," agrees Hernandez.
Credentialing itself is a value-added service that EMERGICON offers. "By setting up bank accounts and taking care of the government payers' credentials, we remove much administrative work from the client's shoulders. Parallel to that, we are always looking for ways to improve. For instance, updating our systems and methods to provide a better service," states Kaufman.
Sense of Purpose
When asked why their jobs make a difference, the Reimbursement & Credentialing team members reinforced that their tasks spin the company's wheel. Therefore, sustain client funding. "If we don't do our job on the front end, then we can't bill claims or collect money. And that causes EMS agencies to lose funds," describes Kaufman.
Regarding the reasons for loving their jobs, the Reimbursement & Credentialing Specialists list the team and variety as the primary motivations. "For me, it's our people and the diversity of circumstances. No day is the same, and I love that," states Munoz. "There is always something different and new happening, and I love learning. It's exciting because there is always something new to learn," completes Hernandez.
If you are interested in this career path, we have great news! EMERGICON is always accepting job applications. Check the current positions available on our Careers page or send your resume to jobs@emergicon.com.